During the inaugural eDesigner (IEG4's online forms builder) hackathon, one of the things that was heavily voted for by our users was the ability for citizens to report issues on a map. Indeed, by the end of the day we had a prototype created. As they say, location matters, and we felt this was an important function to add to eDesigner as a part of the personalisation strategy we have in our digital services. That is to say, the new Map functionality within eDesigner is very smart, but it is just one element of our strategy to provide personalisation around a user's location - more on this in a future blog post.
As a free upgrade to eDesigner, we have provided a function to enable non-technical users to embed a map into an online form and:
Allow a citizen to find a location using the geo-location capabilities of their device or by searching using powerful Bing Maps capabilities and also

Allow a citizen to leverage satellite, bird's eye, street view, ordnance survey modes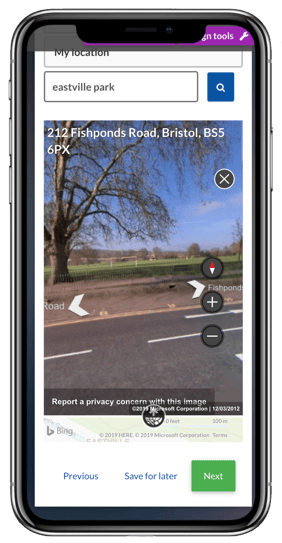 We particularly like the fact that using street view a user can find a very specific place by viewing the map and then setting the location. We also see potential for Augmented Reality use cases in the future for this.
The map control is like any other control in eDesigner in that it can conditionally be displayed. i.e. only present the map and geo-location function, for example, if the person reports the issue is in a park.
When a report is submitted the location and a link to a map of the geo-location is automatically sent to the back-office team.
By leveraging the powerful Bing Maps API, a citizen can technically find a location anywhere in the world in seconds with minimal data. Moreover, Bing Maps is also smart enough to filter search results to those near to the user's location if they've previously enabled geo-location.
This is very powerful in that a user with no coding skills is able to achieve something that one would normally expect a only a developer to do. As a part of enabling Local Government as a Platform (LGaaP), eDesigner now enables every service request to have a consistent model to collect geo-location data. As a result, IT are not required to assist with its implementation.
It just works.
IEG4's strap line is 'We do tricky'. I see this as we take the supposedly complex, remove the technical gobbledegook and enable business users to do their jobs smarter.
After all, isn't that what software should be - an enabler?
#WeDoTricky #LGaaP