John McMahon of IEG4 explores how emerging technologies around data will enable an increase in personalised services, more proactive action, no code digital services delivery, a more compassionate approach and the provision of intelligent services.
There are so many aspects to service delivery within the public sector, that trying to condense them into one or two things becomes tricky.
There is one common thread among everything that public services do: Data. Data is at the centre of our thoughts; the starting point of our ideas, is with the capabilities and purposes of data.
To provide some basis for the importance of data, we only need to look at data usage. In 2019, the global mobile data usage alone was 366 Exabytes, which is 366 Billion Gigabytes (366,000,000,000 GB). In 2021 it is predicted to be 701 Billion Gigabytes. The future of service delivery will be those technologies that can leverage data to deliver better experiences and outcomes for citizens.
Artificial Intelligence (AI) is a phrase that is often used in an indifferent, incorrect manner. But what is it and why is it relevant to data? As a Product Manager, I like to work in visual terms to explain concepts. The following is the current favourite diagram to explain the different areas of AI: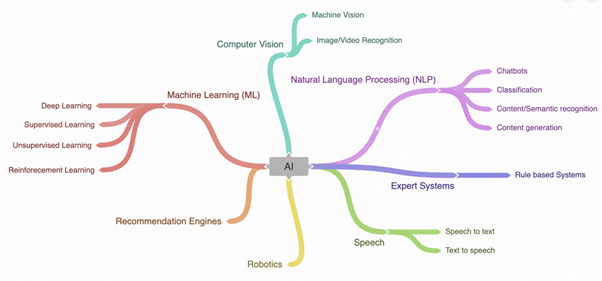 Data powers all of the branches of the above diagram. E.g. An Image recognition AI
needs the data in a photo or photos. Speech to text uses a vast amount of past data combined with machine learning to understand purpose.
Across the >1000 services provided within a local authority, there is a truly vast amount of data being collected. In today's unprecedented times, the public sector will need to take advantage of this in order to overtake what is currently in place.
Our prediction for the emerging technologies, that will transform services most, are delivered by several of the branches of AI. For context, we will walk through these in terms of five outcomes.
Personalised services
Using rules-based systems, machine learning, and recommendation engines, data will be used to entirely personalise the council's services like their website and 'digital concierge' - Chatbots.
Proactive Action
Data held about users will be leveraged to automatically do things, not just notify someone. A person applying for support in one area will be passported for other services if data they provide shows eligibility.
No Code Digital Service Delivery
Rules-based systems and process orchestration will enable even the most complex of services to be automated. With emerging technologies that enable this to be done by business analysts and service users, not IT.
Compassionate Approaches
COVID-19 has left many people and businesses needing considerable support. Leveraging and combining credit/health/historical service usage data across a variety of services will lead to councils being able to be smarter in debt recovery.
Intelligent Communities
There are a huge array of service providers that can deliver services on a microlocal basis in council regions. With intelligent, intertwined health, social care, welfare, mental health, housing, and directories, etc., citizens can benefit. A recommendation engine powered chatbot, could help a carer know which services would be most suitable for the client. A father, could be proactively told of services for a disabled child rather than needing to jump through 100 hoops.
Finally, in another, related area, Quantum Computing will have a tremendous effect on how data can be used. With its ability to solve extraordinarily complex tasks exponentially faster than a regular computer, it will be a game-changer in how we can use data to do more.